Did any of y'all notice that New Girl had Taylor Swift's 22 playing when Jess is upset and Nick is dancing? haha. I don't know about you, but I'm feeling 22. Yet another reason why I love that show.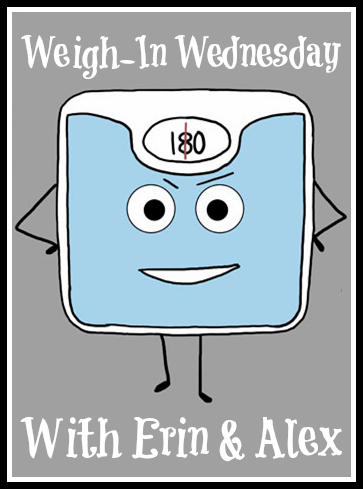 WIW--I weighed in at 155.4 this morning. Yes, that's a tad bit up (not even an entire pound more) from last week, but that's okay! That's my normal pattern. I'll see a super low weight then won't see it for a week or two ...and then all of a sudden I'm back at it! Not sure why I do that, but I do. Up until now it has pissed me off and confused the hell out of me, but I've learned to expect it. And to be more patient with my body. Even when I'm only halfway trying, I still seem to lose weight (slowly) because I'm still doing more about it than I used to.
I tried to make an at-home copy of the salad I had earlier in the week. It was so good--me and BJ had this for lunch yesterday before he rushed off to work.
Romaine, spinach, broccoli, cauliflower, center cut bacon, cucumbers, feta, kalamatas, pre-cooked chicken (Tyson brand I think) and we each had half an avocado with pepper and lime juice on it.
I made the salads while BJ dealt with getting a consult scheduled for getting his wisdom teeth taken out. wahoo. 
While I divided laundry in our bedroom last night, My dog stared at the front door for 20 minutes. That always freaks me out. What are you staring at Jeffery?! It drives me crazy. Is someone outside??? AHH.
Here's a little something I found on pinterest to keep in the back of my mind this week. I've found when I'm not crazy motivated I'm still doing things, even if my whole heart isn't in it. Because of habit. It's way better when I'm excited about it though, so I've got to find some more ways to liven things up!!
Interview this week went good. I found out afterwards that they're interviewing a girl that already works there in a similar position--so I'm pretty positive she's got it and the interviews were a formality to comply with their hiring policy. Oh well.
It'll really be a disappointment if I got two interviews within a week of each other and a job doesn't come from either one of them. I REALLY want the first one I interviewed for. I can't even find the words to explain to you how much. Still waiting to see whether I made it to the second round of interviews or not for that one.
I'M TIRED OF WONDERING! Someone put me out of my misery already. I'm sure my hubs is about tired of it, plus he's got his PA school interview he needs to hear from....I'M SO ANXIOUS when I get to thinking about how we're just waiting on phone calls!!!
Anyway. Ima take my anxious self off of blogger and try to be productive.