And by crafty I mean I made a new salad I didn't hate.
It's WIW y'all! Be sure to check out our hosts
Erin
and
Alex
...and feel free to join in on this linkup! You could link up a post you did a week ago, or sit down right now and type one out! It's not that hard. Email me if you need help: samsmithgriffin (at) gmail (dot) com.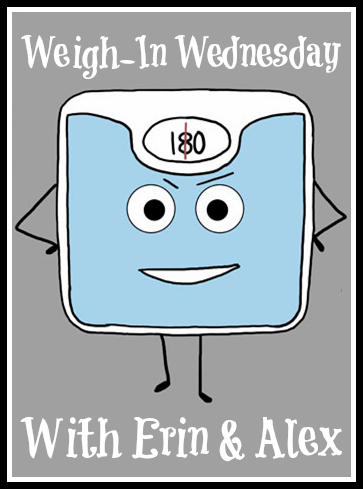 SOOOOO.....Back to that weigh in Wednesday deal.... I'm up to 156.0.
I don't know if that's because of Jillian or because of the weekend (remember my weekend lasts until Monday), but I'm going to assume it's muscle since I'm trying not to destroy what little motivation I have this month.
I mean, February has just sucked for me (motivation-wise)!
Here's to March being full of better weather, more daylight, and more exercise!!!
And back to that salad!
I used 2 ish cups of romaine, 1/3 cup of fiesta shredded cheese (great value brand), some tomato I cut into chunks, and a spicy black bean burger by Morningstar to make this salad. I used some salsa (great value -medium) as the 'dressing.' It was like I had a taco salad, minus the chips of course. It was yum!!

I didn't think to snap a photo until I was almost done. My bad!

Still waiting to hear from my second interview, here's a picture of me getting ready for it last Friday.
I was off the last half of Friday, so my weekend started early and was extra long... I left work Friday at 11 and didn't have to go back until Tuesday. It was a nice break. And who doesn't need a break from work!?!?
I went to a baby shower on Saturday for a family friend. This girl used to babysit my sister and me. She's in most of our home movies. I used to think her dad was my uncle. Ha. She has two girls and her third she's pregnant with now is a boy, so that's exciting.
Isn't she the cutest pregnant gal? Leopard jeggings. Awesome.
I didn't eat like I was watching what I eat while I was there. I don't know what I expected to be there--but fried green beans and white cheesedip wasn't it! It was at a local steakhouse and the food was appetizers off the menu, and there were mini cupcakes. It was all yum! Again, February has been an epic fail.
I feel like the last time I was on track was December--and I miss it. But I evidently don't miss it enough. Thinking and doing are two different things. I will get out of this slump, it WILL happen! Promise.
Thanks for reading my rants guys!